Reliable Furniture Collection Service at Competitive Prices
Trust Fast Assemblers to provide you with high-quality IKEA delivery services when you need them. We know that IKEA is the most popular flat pack furniture supplier, and that's why we have spent a great deal of time in creating the optimal IKEA flat packs delivery service for you. Take advantage of our time-saving services in London which come in shockingly low price rates!
Collection and Delivery Services in London for Your IKEA Furniture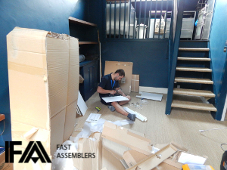 Fast Assemblers has the perfect equipment to make your IKEA items delivery easy and damage-free. We have spacious, well-maintained vans equipped with safety blankets and straps. We always strap down and cover any IKEA flat pack regardless of its size, to be sure it makes it to your London address safely.

The Fast Assemblers IKEA delivery service will take care of all the loading and unloading. It doesn't matter what kind of IKEA item you want us to purchase. Take for example the famous PAX wardrobe. It is a large, heavy item containing many pieces. Our delivery services from IKEA, London is perfect for the PAX wardrobe because Fast Assemblers has the right transportation equipment and experienced furniture builders to easily deliver a PAX wardrobe and of course, the right prices and customer service.
Your Ready-To-Assemble IKEA Fittings Are Just Four Steps Away
We are here to make the most annoying aspects of RTA furnishings as painless as possible for you. That said, our furniture home delivery is a great way for you to save time, efforts, and money as well as many other troublesome moments related to shopping for such amenities. For easy reference, here are the four major steps our full-service furniture delivery:
#1. Create Your Shopping List
Visit the official IKEA website and decide what items you want to purchase. Create your shopping list and include each item's unique number.
#2. Check Stock & Purchase
When you're done creating your IKEA shopping list, call in the shop to check if your desired items are in stock. Then you'll have to purchase the items. You will receive an order confirmation and an invoice.
#3. Furniture Collection And Delivery
After you have provided us with a PDF copy of the above-mentioned order confirmation and invoice, our team can now collect your items. We will also need an address of the correct IKEA shop.
*Note: Don't forget to check if your desired items are in stock. If not, see when they will arrive, so we can schedule the pick up accordingly. Usually, it is 48 hrs after the purchase, because the bank transaction from you to IKEA must take place, before the collection.
#4. IKEA Furniture Delivery and Assembly Services in London
We offer fast IKEA furniture assembly service in London, having over 9 years of experience and fully-insured and licensed furniture builders at our disposal. After having your flat pack furniture delivered to your home or office, you can have it professionally assembled and fitted.
*Note! Your shopping list must contain ONLY furniture items. If you want any small decorative items, you can order them from IKEA or collect them from the retailer.
Book Delivery Service for IKEA Furniture with Fast Assemblers
Our customer representatives are available 24/7 every day, even on public and bank holidays. You can easily reach us on 020 3746 1134 and let us know when you want your IKEA home delivery service carried out. We will provide you with a free quote and any additional information you might need. You can also use our online booking form and chatbox as alternative methods of contacting us.